The process of dispensing medication in medical or assisted living facilities relies on a set of prespecified protocols. Those medication-dispensing protocols concern:
Dosing
Labeling
Packaging
Secure storage
Delivery
Together, these processes ensure the right patients get the right medications.
Medication carts support those drug management processes and enable the smooth, efficient and, most importantly, secure delivery of medication.
What Medical Facilities are Medication Carts Designed For?
Medication carts are built for a variety of medical settings, including:
Hospitals and acute care facilities
Continuing care communities
Nursing homes
Assisted living facilities
Rehab centers
Psychiatric care facilities
Surgical centers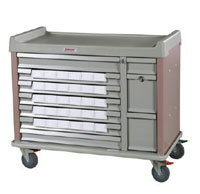 Wherever medication is dispensed, medication carts provide unsurpassed performance.
There are many medication cart designs and models to choose from. Which is the right choice for your team's needs? There are a few things to consider, including:
What material the medication cart is made from – MSEC medication carts are available in steel, aluminum or ABS plastic construction. There are significant differences in durability and mobility between the three. Balancing durability and mobility is the goal.

Steel medication carts are heavy and durable, which makes them a good fit for facilities that must prioritize security, such as rehabilitation centers. With their added weight, steel carts are less maneuverable and can be a challenge for smaller operators.


Aluminum weighs less than steel, so it's easier to handle, and it offers comparable durability.

Aluminum is also corrosion-resistant, so it's a popular choice for facilities in high-humidity areas and those near seawater.

ABS plastic carts are the lightest available and the easiest to handle, but they don't offer the same level of durability. However, ABS is also corrosion resistant.

Your facility's budget may ultimately make the decision. Between steel, aluminum and ABS plastic carts, aluminum carts are the most expensive and ABS is the least expensive.

The size of the cart – Medication carts can be scaled up or down in size to fit a facility's needs. Carts are available in 22, 30 and 40-bin designs, and most feature drawers for additional equipment storage. Large medical facilities rely on larger carts for their greater patient counts. 


Your facility's working environment – How large is your facility? How accessible are patient rooms and elevators? What materials are your floors made with? Are there any tight corners? How much foot traffic do your facilities experience? Are uncooperative patients a risk?

Your facility's working environment will also determine the right medication cart. In small rehab facilities, for example, metal carts may be more practical for assuring that the meds are secure. In large hospitals, aluminum and ABS allow nurse teams to move around faster. In every facility, the right cart offers a balance between durability, maneuverability and economy.
Together, these considerations will help your organization with its purchasing decisions.
Once you've picked out your preferred medication cart, you can customize with accessories and other options, including:
Built-in or add-on narcotic cabinets – Narcotic cabinets can be installed into your medication cart or added on. In both cases, narcotic cabinets provide added security for controlled substances.


Additional medication bins – Additional bins can be added to your cart to service larger patient loads.


Larger, swivel caster designs – Some medication carts are available with expanded swiveling caster designs. These heavy-duty casters can be easily pushed across all types of flooring and are ideal for teams that must prioritize mobility.


Bin dividers and ampoule holders – Bin dividers are ideal for enhanced cart organization. Some carts can also accommodate ampoules, allowing for safer storage of liquid medications.


Handles and bumpers – Medication carts are constantly bumped, knocked and jostled, and bumpers can help absorb these movements and keep walls and furniture from sustaining damage. Handles enhance mobility and provide additional stability during movement.


Color options – MSEC carts are also available in several color finishes, so your carts can be color coded for their function or color matched to the facility's branding.
Secure, Manage and Deliver Medications Better with Quality Medication Carts
Frontline medical workers need secure and efficient drug dispensing processes, and medication carts support that mission with a variety of sizes and constructions. High quality medication carts are built with security and mobility-enhancing features, including tamper-resistant locking mechanisms, heavy-duty caster designs, and a variety of cart frame options.
Sorry, we couldn't find any posts. Please try a different search.